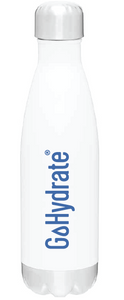 Rep GoHydrate wherever your day takes you! This heavy duty and environmentally friendly, high-quality 17oz stainless steel thermal bottle features a copper vacuum insulation design guaranteed to keep beverages cold for 24 hours or hot for 12 hours. 
Bottle is white with navy GoHydrate logo. Limited quantities available! 
All products are shipped via our warehouse Corporate Disk Companies. Orders ship within 1-2 days of order date. If you have questions about your order, please email
contact@drinkgohydrate.com
When should you drink GoHydrate?
Morning: When we sleep we become dehydrated. Before you begin your day, start with a glass of GoHydrate.

Afternoon: Feeling tired? We got you. Pour another bottle and recharge.

Evening: Hangovers = bad. GoHydrate = your best friend. Have another stick if you plan on drinking alcohol. You'll thank us in the morning.
Great keep my drink cold for houts